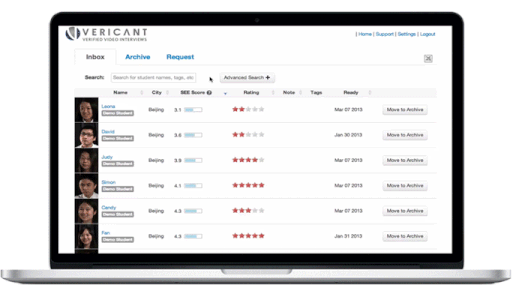 Our intuitive platform helps Admissions Officers prioritize, collaborate and use their time efficiently, and integrates with tracking platforms such as Slate.
Learn more about the Vericant Interview and Portal via an onboarding call with a Vericant team member.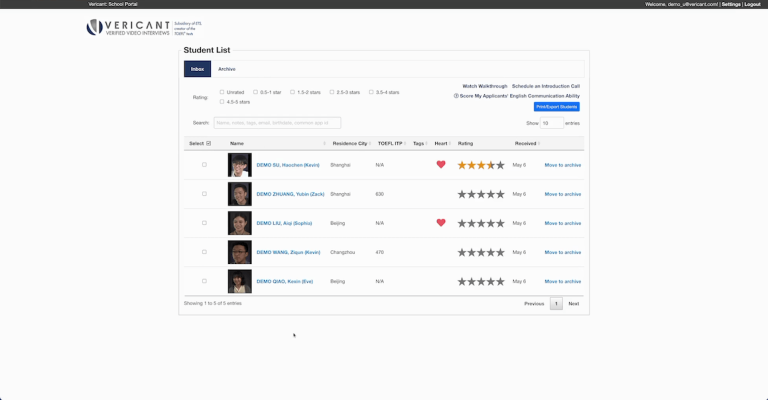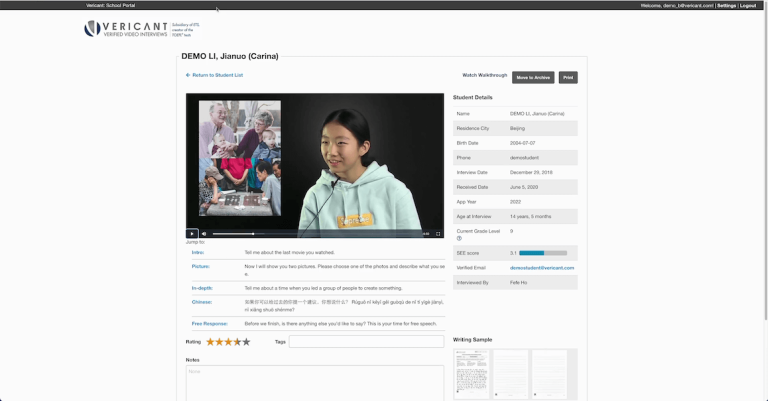 "The (Vericant) Interviews have become a valuable and flexible part of our evaluation process. We are very pleased with the students that we enrolled, with significant help from Vericant."
Steve Downes
Director, Center for International Students; Associate Director, International Recruitment, Tabor Academy
"Services like Vericant are very helpful because they allow schools get to know a number of applicants that's very hard to replicate on their own...(the Interview) doesn't give a complete picture, but it helps to give a part of the pictures schools need to know in order to determine a good fit."
Pete Upham
Former Executive Director, The Association of Boarding Schools
"The (Vericant) Interview really matters...in terms of our assessing fit and getting to know (applicants) as individuals – that's one of the best parts of the process."
Peter G. Curran
Head of School, Blair Academy
"(The Vericant Interview) is really helpful for us, and I totally did not expect them to interview students in such a clever and unexpected way. Through the video interview, we can understand the applicant's English speaking ability more fully. I have to say, it's really a great idea."
Ben Douglas
Senior Associate Director of Admissions, Episcopal High School
"Vericant is essential to our admission process. I review both the SEE score and interview recording when selecting students for an admission interview. This provides me with a clear assessment of applicants' communication skills."
Jenna Cameron
Assistant Director of Admissions, Ridley College
Request a demonstration now
View sample videos and explore tools which better inform and save time for admissions officers.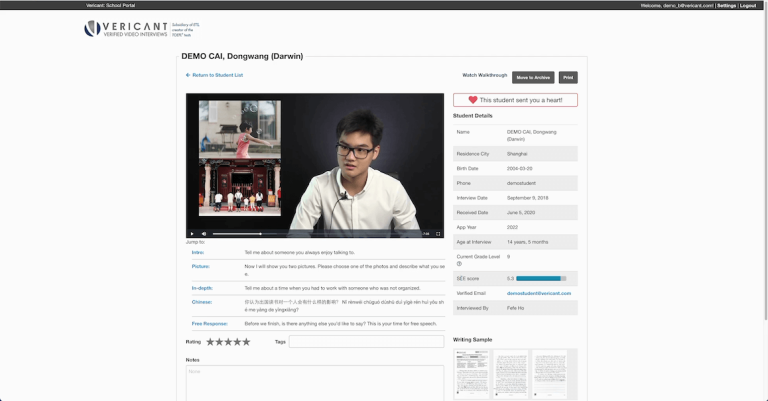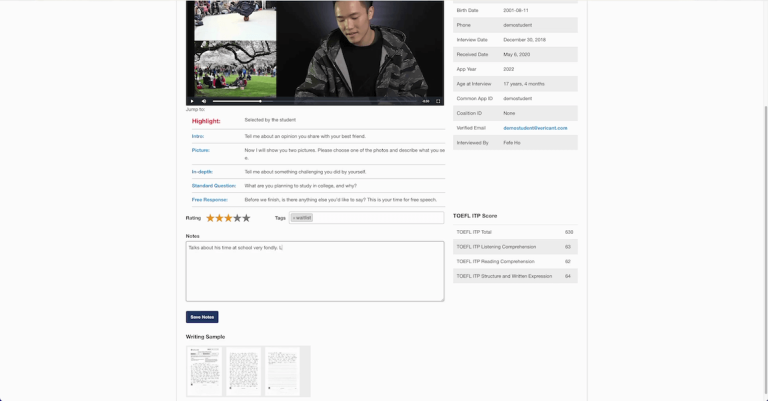 "We thought that Vericant (Interviews) provided an excellent opportunity for our students to showcase their interpersonal skills, as well as for us to have a better understanding that the information that we were getting was authentic."
Adina Brooks
Former Associate Director, Graduate Admissions, Columbia University IEOR Program
"We find Vericant (Interviews) extremely valuable because we get to see not just the English skills of our applicants but also we can hear WHY they want to study in the areas they've chosen."
Judith Aaron
Former Vice President for Enrollment, Pratt Institute
"They (Vericant Interviews) provide a more detailed and well-rounded view of all of our applicants. We just don't have the bandwidth and the ability to interview every single student and it would be unfair to only interview a select number."
Greg Dellorco
Associate Director of Admissions for Specialized Entry Programs, Northeastern University
"As much as we would love to sit down and interview every single applicant, we don't have that ability...collaborating (with Vericant) gives us the ability to service more students."
Jennifer M. Mathews
Former Director of International Admissions, Syracuse University
"Having an interview from Vericant is something that we look forward to because we are actually able to look at the student as they're communicating and having that sort of personal touch to an application helps us with our decision making process."
Jennifer Simons
Former Director of International Recruitment, Northeastern University & Tufts University
Learn more on our knowledge base
Frequently asked questions from institutions are online 24/7.