The Vericant Interview measures what
matters
Vericant High School
Interview
The widely-accepted standard for admissions to competitive schools in North America and beyond.
Vericant Undergraduate Interview
The Interview uncovers the real applicant, filtering their preparation and knowledge.
Accepting Schools and Institutions
Over 100 schools and universities rely upon the Vericant Interview to improve their process and yield.
The Vericant Interview, paired with the School Portal, frees institutions from the burden of tracking interviews for hundreds or even thousands of applicants.  Our intuitive platform helps Admissions Officers prioritize, collaborate and use their time efficiently, and integrates with tracking platforms such as Slate.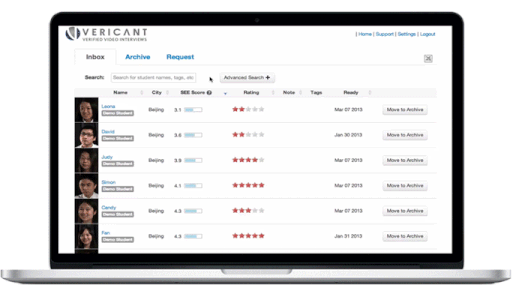 Trusted by admissions experts
The Vericant Interview is a proven tool to better understand applicants and predict academic success.
"Having an interview from Vericant is something that we look forward to because we are actually able to look at the student as they're communicating and having that sort of personal touch to an application helps us with our decision making process."
Jennifer Simons
Former Director of International Recruitment, Northeastern University & Tufts University
"We find Vericant (Interviews) extremely valuable because we get to see not just the English skills of our applicants but also we can hear WHY they want to study in the areas they've chosen."
Judith Aaron
Former Vice President for Enrollment, Pratt Institute
"As much as we would love to sit down and interview every single applicant, we don't have that ability...collaborating (with Vericant) gives us the ability to service more students."
Jennifer M. Mathews
Former Director of International Admissions, Syracuse University
"We really love to get interviews from our students to help us see consistency in English language, and ability to express yourself — just like you would see here in a classroom in USC."
Keven Hostetler
Former Associate Director of International Admissions, University of Southern California
"They [Vericant Interviews] provide a more detailed and well-rounded view of all of our applicants. We just don't have the bandwidth and the ability to interview every single student and it would be unfair to only interview a select number."
Greg Dellorco
Associate Director of Admissions, Northeastern University
Hundreds of leading universities and high schools already use the Vericant Interview as part of their admissions process.
"We have lot of students applying who are academically qualified, who have done well in school, who have strong test scores, who have strong college essays - the Interview is one more piece of information that gives us a strong sense of who the person is, not just an application, but a human being that's applying."
Doug Nevins
Former Assistant Director of Admissions, Brandeis
"We've worked really hard to make sure that the partners we work with, like Vericant, are people we feel confident in — in the quality of the interview they're having, in the validity of the interview….we are not just comfortable with having anyone do it, but we have spent time to understand the partners that we are comfortable with and ask them to help us out…"
Jennifer Blask
Associate Director of International Admissions, University of Rochester
"We used to interview almost all of our applicants ourselves, and we found that it shifted our priorities in a way that we were not comfortable with where, by doing so many interviews, we were pressed for the time to do what we call a holistic review of the rest of the application."
Matt Johnston
Assistant Director of Admissions, Clark University
"We discovered that students who do the Vericant Interview have better success rates at our university."
Kathleen Crisp
Assistant Director for International Admissions, University of the Pacific
"We like Vericant's services because we love to see the students who are in the interviews themselves. Students are more much more than a test score and it's really hard to get a sense of how that student would be a great part of our community until we can see them."
Aaron Basko
Former Assistant Vice President for Enrollment Management, Salisbury University
See which universities accept the Vericant Interview
Top institutions across North America use the Vericant Interview as part of their application process.
The world's leading provider of admissions interviews
Over the past ten years, Vericant has refined the design and practice of conducting professional academic application interviews consistently and at scale – with the SEE metric to measure spoken English ability in academic contexts.
institutions receive the Vericant Interview
applications submitted including the Vericant Interview
home countries of applicants chosing the Vericant Interview
Elite colleges and universities use the Vericant Interview as part of their admissions process:
See which high schools accept the Vericant Interview
Top schools across North America use the Vericant Interview as part of their application process.
Top high schools use the Vericant Interview as part of their admissions process:
"The (Vericant) Interviews have become a valuable and flexible part of our evaluation process. We are very pleased with the students that we enrolled, with significant help from Vericant."
Steve Downes
Director, Center for International Students, Tabor Academy
"Many schools have small admissions offices and struggle with managing a high volume of applicants...that presents challenges managing those applicants. Services like Vericant are very helpful because they allow schools get to know a number of applicants that's very hard to replicate on their own...(the Interview) doesn't give a complete picture, but it helps to give a part of the pictures schools need to know in order to determine a good fit. It makes their work more efficient, but also provides...convenience for the schools and the common platform, and the controlled conditions of the Interview."
Pete Upham
Former Executive Director, The Association of Boarding Schools
"The (Vericant) Interview really matters...in terms of our assessing fit and getting to know (applicants) as individuals – that's one of the best parts of the process."
Peter G. Curran
Head of School, Blair Academy
"(The Vericant Interview) is really helpful for us, and I totally did not expect them to interview students in such a clever and unexpected way. Through the video interview, we can understand the applicant's English speaking ability more fully. I have to say, it's really a great idea."
Ben Douglas
Senior Associate Director of Admissions, Episcopal High School
"Vericant is essential to our admission process here at Ridley College. All students studying in China are required to complete a Vericant interview as part of their application. I review both the SEE score and interview recording when selecting students for an admission interview. This provides me with a clear assessment of applicants' communication skills in both English and Chinese. This assessment allows me to spend my time with students focusing on their individual passions and how they might fit in our school community."
Jenna Cameron
Assistant Director of Admissions, Ridley College
"(The Vericant Interview) is highly beneficial for me because it helps me streamline the applicants. The Vericant Interview is very helpful to hear the students' English ability, especially when it's free range conversation, or they're asked to describe the picture and give a lot of detail. Those are things they can't necessarily practice for, curveballs that give me a sense of how they are able to adapt."
Jennifer Welch
Former Associate Director of Admissions, Thayer Academy
"Students applying to Ashville School are a diverse and talented group. Sometimes, this group is difficult to make sense of and evaluate. The Vericant Interview helped us solve this problem. For schools, our time and resources are very limited. Vericant helped us greatly improve the efficiency of our assessment of students applying from China. In a sense, this is a huge improvement for our school itself."
Morgan Scoville
Former Director of Admissions, Asheville School
"Frankly, I think the interview techniques are better than what I'm using in our office. I was intrigued with the questions. They aren't these sort of pre-form questions that kids can always expect and plan for."
Leo Marshall
Former Director of Admissions, The Webb Schools
"As a school with a small international admissions team, Vericant provides an essential service in allowing us to effectively pre-screen a large candidate pool without having to dedicate significant resources to the process. Vericant's interview format and questioning style allow us to make an initial assessment of a student's English competency to ensure that we are inviting those students who have a higher likelihood of success into our process. Without Vericant, our process would surely be much more labor-intensive, and our candidates' admissions experience wouldn't be as seamless as it is."
Rebecca Huryk
Director of International Admission, Virginia Episcopal School
"McCallie uses Vericant interviews throughout the application process. They serve as a way for us to identify interested students early in the process. The interviews often give a starting point for additional conversations with a student as we are able to learn so much about their interests and hobbies even in 10-12 minutes. Finally, the Vericant Interview is a data point for English language proficiency and trajectory over time. If a student sits for an interview in August or September, we are able to compare that to our own notes from December and January."
Patrick "Patch" Lawson
Associate Director of Admission, The McCallie School