The Vericant SEE Diagnostic
Understand the Interview score
Feedback from Vericant's raters informs how you can improve.
"Before the interview, I thought they'd make things hard for me so I can't answer, but when I really went to Vericant, I discovered that they're actually helping me get accepted by better schools. Their questions are realistic, so they help me better prepare for the high school's official interview."
Athena Zhao
Admitted to Culver Academies
"I think that the Vericant Pre-Interview gave me the chance to speak one-on-one with a real interviewer. This experience is hard to come by. No matter how much I prepared beforehand, if I didn't really sit down in the room and talk to the interviewer, I probably would've been afraid of the unknown until the actual interview."
Tony Zhang
Admitted to Baylor School
"Before the Vericant Pre-Interview, I thought it was a test. After the VPI, I understood it was a real conversation so I changed my approach and my performance (in the official Interview) improved."
Victor
Admitted to Milton Academy
The Vericant SEE Diagnostic in Detail
The Spoken English Evaluation Diagnostic is a comprehensive report about your performance during a Vericant Pre-Interview. It includes a breakdown of how you did in each of the five categories of our rubric and professional feedback on the strengths and weaknesses you displayed during the interview.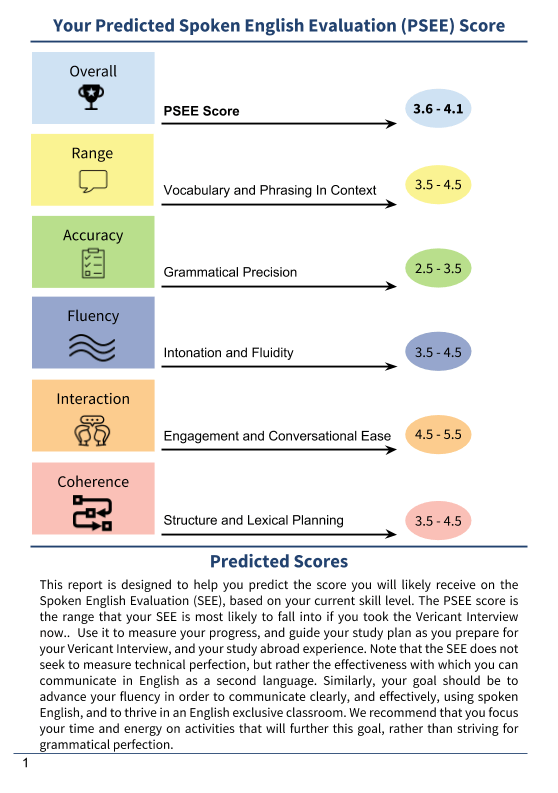 See your performance for each category of your Vericant Interview SEE score: Linguistic Range, Grammatical Accuracy, Fluency, Spoken Interaction, and Coherence.
Use this information to guide your areas of focus for practice and preparation for the official interview or your next pre-interview.
Receive information on your strengths and weaknesses in all five categories, useful tips on how to improve based on your current level, and direct feedback from a member of the Vericant rating team.
Use this information to practice and develop your strengths in the competency areas which are important to you.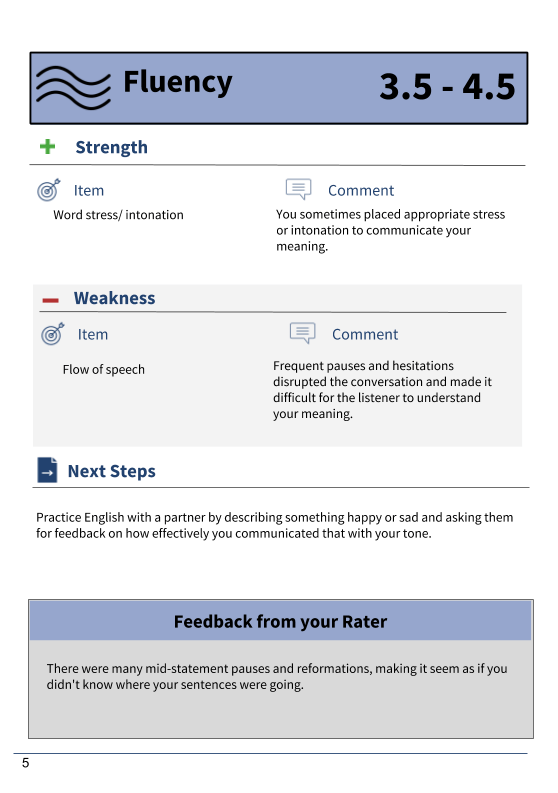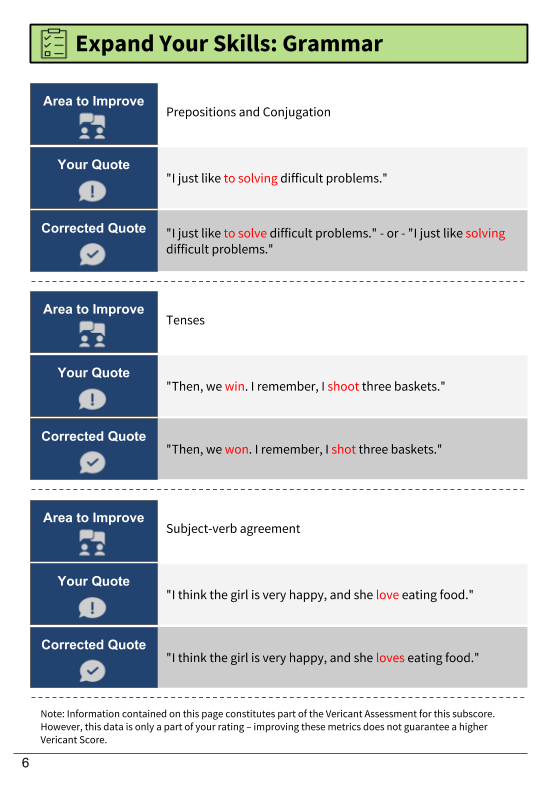 Get an in-depth look at your Range and Accuracy score with analysis of your specific mistakes, suggestions for how to improve them, and where to focus your practice and development in these categories.
Use information to 'catch' your errors and apply Vericant's coaching to your personal practice.
See which high schools accept the Vericant Interview
Top schools across North America use the Vericant Interview as part of their application process.
Frequently Asked Questions
How do I purchase the SEE Diagnostic?
The SEE Diagnostic is an add-on to the K-12 Vericant Pre-Interview and can be purchased anytime, before or after your K-12 Vericant Pre-Interview.
You can:
Purchase SEED as an add-on when you purchase the Vericant Pre-Interview package
Get SEED included when you purchase the Vericant Pre-Interview Standard or Deluxe package
Purchase SEED as an upgrade anytime through your Vericant student dashboard
If you have questions on SEED or how to purchase, please contact us.
When will I receive my SEE Diagnostic?
The diagnostic will be delivered as a PDF file to your student dashboard 5 working days after your PSEE report is delivered. If the SEE Diagnostic is purchased after the PSEE report is delivered, the SEE Diagnostic will be delivered 5 working days after purchase date.
To receive your booklet faster, you can upgrade to fast delivery for both your PSEE score and your SEE Diagnostic. Learn more on Pricing.
Can I receive a printed copy of my SEE Diagnostic?

By default the SEE Diagonostic is delivered as an electronic PDF. If you would like it printed and shipped to you, please contact schedule@vericant.com after purchasing.
How do counselors, advisors and teachers use the SEE Diagnostic?
The SEE Diagnostic is a great way for you to help your students get the most from their K-12 Vericant Pre-Interview experience. It not only includes personalized feedback on their performance, but also has helpful tips for each of the five categories of the SEE rubric. If you are unsure of the meaning of any of the feedback please don't hesitate to reach out to us by email at schedule@vericant.com.
Register for the K-12 Vericant Interview
Stay ahead of the crowd – schedule your interview now to guarantee your desired date and time.